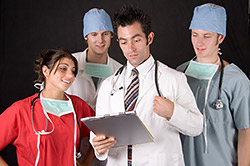 Most critical care medicine today is delivered in highly specialized intensive care units (ICU). Critical care is provided by multi-professional teams of highly experienced physicians, nurses and other allied health care professionals.
They use their unique expertise, ability to interpret important therapeutic information, along with access to highly sophisticated equipment to provide care that leads to the best outcome for the patient.
The team should be directed by an individual with expertise in critical care medicine. Intensivists, many of whom are also anesthesiologists, are specialty trained physicians that provide the care and guidance needed by critically ill and injured patients and their families.
Anesthesiologists' extensive, specialized training gives them a strong background for this field of medicine.  However, Intensivists do come from other specialty areas of medicine, such as surgery.
What Is The Best Practice Model?
Factors that are related to improved outcome as measured by reduced mortality, improved efficiency, decreased length of stay, or decreased cost of care.
Timely and personal intervention by an intensivist reduces mortality, reduces length of stay, and decreases cost of care.
In academic centers, the addition of an intensivist to the critical care
team reduces mortality. It is not clear from the existing literature that 24-hr full-time presence of an intensivist vs. an 8 –12 hr day is superior to having access to the intensivist in a "timely period." Further research may clarify this point.
When an intensivist is available in an administrative role in the ICU providing benchmarking, clinical research, and standardization of care, the data suggest that length of stay, cost of care, and treatment complications can be reduced. The presence of a critical care pharmacist can decrease adverse drug events and reduce cost of care.
Excessive nursing workload, as defined by hours per patient day or nurse/ patient ratios, is associated with increased mortality in critically ill patients.
The presence of full-time respiratory care practitioners dedicated to the ICU can reduce length of ICU stay, shorten ventilator days, and reduce overall ICU costs.